Last light
Last Light

Ephemeral installation exhibited in All that fall: sacrifice, life and loss in the First World War at the National Portrait Gallery of Australia 2015
Interviews with the artists exhibiting in All that fall can be found here: http://www.portrait.gov.au/content/artist-interviews-all-that-fall
Background
In early 2014 the National Portrait Gallery invited three contemporary artists to make works for the exhibition All that fall.
I was commissioned to make a work in response to a cenotaph designed by Theodora Cowan in 1920. Cowan was known as Sydney's first professional female sculptor, and had trained overseas, as well as running a portraiture business in Sydney.
According to Ken Inglis – author of Sacred Places: war memorials in the Australia Landscape:
"At the end of the war members of women's clubs in Sydney, among them Lady Cook, wife of the former prime minister Sir Joseph, planned a monument honouring fallen soldiers in the name of the women of NSW."
The curators Dr Christopher Chapman and Dr Anne Sanders asked me to make a work that would complement the elegiac feeling of the exhibition, and provide a place for audiences to engage in quiet contemplation.
My response was to consider:
1. Theo Cowan's approach – her use of imagery, materials and the traditions she was working within and in response to.
2. Awareness that Cowan's project was initiated by a group of women and considering their interests and the losses/sacrifices they wished to commemorate. The sense of the physicality of the losses sustained by those left waiting for family members that did not return, the bodily sensations associated with the experience of grief.
3. The themes of disappearance/absence and embodiment. Cowan's sculpture was never made, the macquette has disappeared, the only trace of the object is a photograph. The proposed memorial itself speaks both of losses and hopes for an imagined future, looking forward as well as looking back.
Description of the work Last light:
I have created a series of thin wax panels that hang in a row in front of the alcove space in Gallery 8. The panels have been carved bas-relief style on reverse side and then used as screens for a video projection. The choice of this material is inspired by the historical use of wax in 'lost-wax' casting, as a substance that is used to create a work and then is melted or destroyed in the casting process. It also references the historical use of wax medallions as a medium for portraiture. The panels are pure wax with no reinforcement – this means the work is very fragile, and the wax itself will shift and slump a bit over time.
The lines and forms carved on screens using wood carving tools is evocative of the forms in the Theo Cowan work, but minimal and abstracted. The imagery is visible as light from the video is projected through the wax panels. When viewing the work from the front, the audience see dappled light shifting across the surface – a video of sunlight moving across a kitchen wall as the sun sets creating a meditative effect.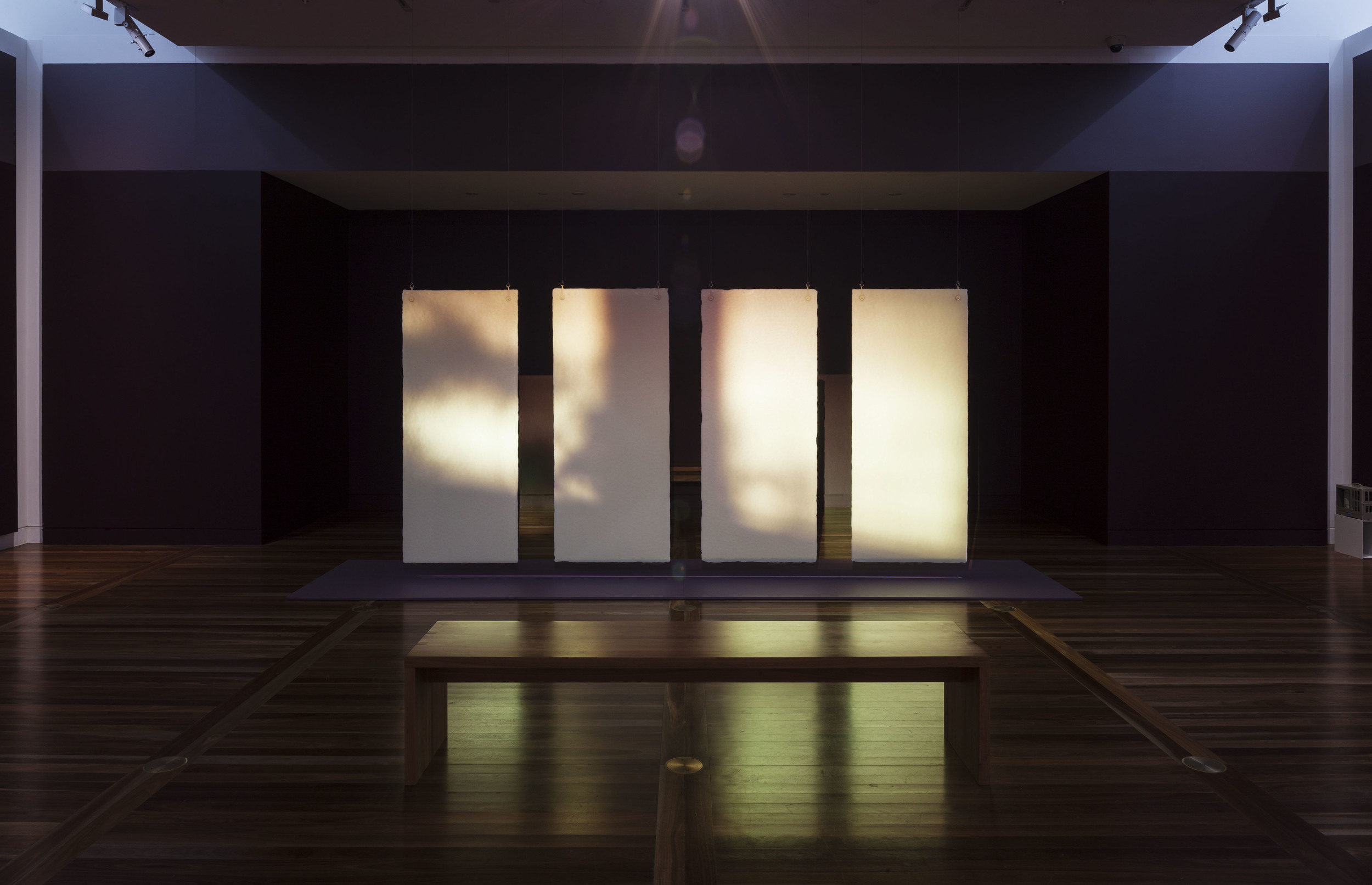 Last light 2015 installation view, carved wax sheets and video projection
photo: Mark Mohell
Last light 2015, installation view, carved wax sheets and video projection
photo: Mark Mohell